MAP-ACTE III - Frequently Asked Questions
From where do you ship?
Our warehouse facilities are located in Ohio.
What shipping company do you utilize?
We use UPS to ship our products. Should a client have a preferred shipping company other than UPS i.e. FedEx or DHL, we will ship accordingly on the clients shipping account number.
What is the timeline for arrival of products ordered?
We estimate that the majority of our products deliver between 1 to 4 days from the shipment date unless you require expedited shipping, which we will gladly accommodate. Print on Plexiglas ®, Print on Aluminum, or any custom jobs including customized resizing or color alterations of our prints, uploaded artwork, or commissioned works generally have a turn around time of 14 business days.
A handling fee of $12 will be added to the freight charge for all tubed print or canvas orders. For Plexiglas or Aluminum orders which are crated, there will be a one time $25 packaging charge in addition to the freight charge regardless of the number of items. For estimated transit times via UPS Ground. Please refer to the outbound shipping map from our Ohio warehouse.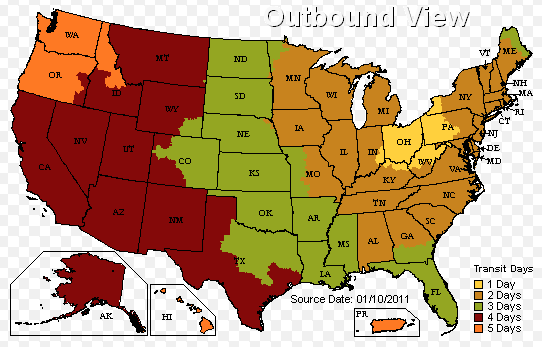 Do you provide tracking information for orders?
Yes. We do provide a tracking number via email once your order has been shipped.
Do you ship outside of the United States of America?
Yes. We currently ship to Canada, Mexico, South America, Caribbean, Japan, Australia, and various countries throughout Europe.
What are your payments terms?
Orders must be prepaid via credit card, company check or bank transfer before dispatch. In certain instances 30 day terms can be arranged. Please access our credit application to apply for our payment terms by downloading our credit application form here (PDF or WORD)
This process normally takes 4 weeks, please plan your orders accordingly.
How do you know which items are available in custom sizes and custom color?
There will be a selection button on the individual page of each product that is available for customization.
What are the maximum sizes that I can request regarding custom jobs?
The maximum dimensions that we can fulfill regarding custom prints jobs in 39.5 x 55
What if I have my own image that I want printed or reprinted?
We do offer this service. We can print your image(s) as a custom print on many substrates including Plexiglas, Aluminum, Canvas and Digital Print. Please visit UPLOAD YOUR ART for requirements and submission steps.
Do you accept artist submissions?
Yes. We are always seeking fresh, cutting-edge artists with a unique portfolio of innovative contemporary art. Please visit our page for more details and guidelines in our Artist Submissions section.
If I have a special project, do you offer consulting services?
Yes. For more than a decade, we have collaborated with leading architects, interior designers, galleries, museum curators, art consultants & buyers on several contemporary projects. We are always excited to forge ahead with new collaborative projects resulting in vibrant, visionary spaces. Please email us at sales@mapartpublishing.com and one of our consultants will contact you to address any of your questions and needs.
What's your policy regarding returns?
We honor returns for our paper product line for store credit, which must be applied to future purchases for within 21 days, after which those credits will expire. The product must be returned with no visible signs of damage or use and must be returned within 3 days of delivery. You must email customer service at returns@mapartpublishing.com and notify us of the return. Please include PO number, your contact info in case we need to follow up, and the item number of returned items.
We do not accept returns on any custom jobs. For further details, please review our Return Policy page
What if my product arrives with damages?
We ask that you retain the original packaging if there were damages to the outside so that we may pursue the damages with the shipping company. If the package is in good shape and damages are a result of improper packing or imperfections, please notify us immediately at sales@mapartpublishing.com or 1-877-595-7244 so that we can make arrangements for your replacement or store credits. Additionally, please provide the PO number, your contact info in case we need to follow up, and the item number of returned items. Then return items to our warehouse facility:
MAP-ACTE III
RETURNS
7829 Ponderosa Rd.
Perrysburg, OH 43551

Do you provide large volume discounts?
Being that our business is largely built around assisting and collaborating with architects, designers, buyers, and artists, we extend volume-based discounts. Please contact our sales teams at sales@mapartpublishing.com for more details.
Do you sell limited editions?
We offer a beautiful line of Limited Editions printed as archival silkscreens on cotton papers that are signed and numbered by the artist. Please visit our LIMITED EDITIONS.
How do I create a PDF Document of all of the products I intend to use for a project?
How do I save an image from the website onto my computer? First, click on the product image you wish to save. Once on the product page, you will find two images of the product. To save an image of the product, either right click on the smaller image positioned below the larger product image on the right hand side of the page, and then save the image, or click and drag that image onto your Desktop.