Each image in the MAP/ACTE III gallery has been carefully selected for its originality, technical excellence and sophisticated sensibility. Maintaining the integrity of these artworks in reproduction is of the utmost importance to us, the artists who entrust their work to us and the clients who seek our services as curators and designers.
To ensure that every reproduction reflects the vibrancy and particularity of the original, we utilize only the highest-quality professional printers, archival inks and substrates available. We guarantee our work's archival quality and its environmental responsibility.
You are only steps away from realizing the astounding impact of real art in real space.
Let the journey begin.
ABOUT TYPE OF ARTWORK QUALITY
ART ON PAPER
OFFSET LITHOGRAPH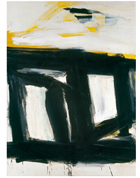 Our offset lithographs are printed on a smooth, 300 gsm, bright white gloss paper. Although this is the most economical printing style in our line; we ensure the results to offer vibrant crisp color, rich black tones the finest detail, and provide superior quality through our precise technique and materials.
WATERCOLOR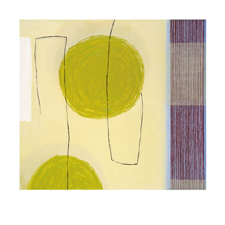 Our offset lithograph on Watercolor Paper is beautifully printed on 220 gsm Verge paper. This creamy white uncoated paper looks and feels handmade which elevates the appearance of the offset lithographs to a fine art status. Furthermore, staying true to the original handmade papers, Verge paper has the grid of parallel translucent lines ("vergers"), as were made in the traditional handmade papers when laid to dry. This is an environmentally friendly PH neutral substrate with no presence of chlorine and it is 25% cotton.
SILKSCREEN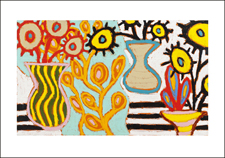 Our carefully hand-printed silkscreen prints, also known as serigraphs, are beautifully, created images printed on 300 gsm archival cotton paper They translate the intentions of the artist's original creation masterfully. This manner of reproduction allows for bright, bold, and true colors, which compliments the graphic quality of the artwork. Non-toxic inks and our high quality paper is made with a certified environmentally friendly ECF pulp, while the actual paper texture elevates the presence of the work.
DIGITAL PRINT ON FINE ART PAPER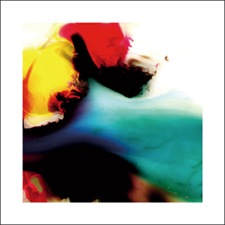 Our archival digital prints are executed on superior art papers. Printing using our toxic-free environmentally friendly inks create beautiful reproductions crisp with vibrant details, intense color saturation, which are fade resistant for over 75 years.
PREMIUM GICLEE PRINT
Our Premium Archival Giclées are printed on Canson 310 gsm paper. Giclée printing is one of the most respected when reproducing fine art. Giclée is a French term meaning 'to spray.' The application of hundreds of minuscule paint droplets are sprayed onto the paper giving it detailed texture and depth which is further enhanced by the quality of our paper. The paper's texture and warm white tone render art reproductions accurately and beautifully, with excellent color.

This technique delivers sharp details, magnificent colors, and the printed dot pattern typically visible in an off set lithograph is eliminated completely. Our Premium Giclée prints are museum quality. Furthermore, our giclées are not only vivid, detailed and accurate prints, but they are also durable and fully archivable artworks. The inks are independently tested to archive in excess of 60 years. Fade resistance and a long lifespan make our giclées a sure choice for any art buyer.
ART ON CANVAS
CANVAS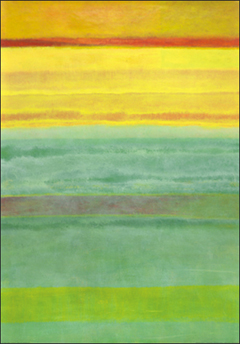 We print our canvas reproductions on a premium PH neutral heavyweight cotton blend 370 gsm canvas that offers the highest quality of detail and vibrant color. Un-stretched canvas prints are provided with an extra 2 inches of canvas beyond the image on each side to accommodate your own stretching or framing treatment.   This extra border can be printed according to your specifications; the mirrored image, black, or a custom color pantone reference that you provide. This eliminates any need for painting the edges, and upon stretching, provides a beautiful finished work of art.
ART ON ALUMINUM & PLEXIGLAS
ALUMINIUM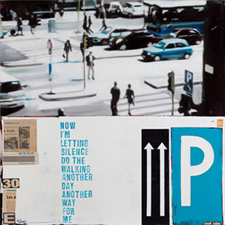 Printing on Aluminum offers a sleek, ultra-slim, beautiful matte finish of only 2 mm thick. This particular substrate is perfect for achieving an industrial, yet contemporary look, especially artwork where it is crucial to eliminate glare.
All types of work translate beautifully as the aluminum is pre-treated with a white powder coating to ensure that all colors and mediums are presented accurately. Only the finest aluminum and proprietary archival inks are used, giving your work a minimum 100-year archival rating.
Museum Quality Aluminum (see price chart)
2 mm thickness (approx. 1/8")
100% UV safe
Printed with proprietary European inks
Perfect for eliminating glare and achieving and industrial look
Pre-treated with a white powder coating
White wooden hanging mechanism floats art 1 ¼" from the wall
Extremely light in weight, perfect for mobile exhibitions
PLEXIGLAS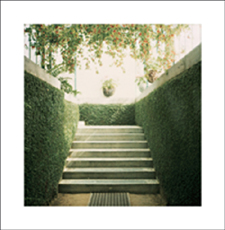 Often referred to as 'printing on acrylic', our Plexiglas® product is superior to any other that you will find within the USA market. We pioneered this eye-catching presentation of Art on Plexiglas® and we quickly became the reference in this magnificent, ready-to-hang concept. Today clients from all over the world provide us with their own creations and images to print on our various substrates, and in turn, we provide them with a stunning, unique work of art. Our Plexiglas® is light in weight at only 4mm thick and it is specifically treated to be 100% UV safe, which means it absolutely, will not yellow or crack over time. Additionally this image is printed directly onto the substrate assuring its longevity.
Offset Lithography is a method of printing where the inked plate (mounted on a drum) rolls against a rubber drum and picks up the image. The rubber drum then rolls across the paper and thus transfers the image. Again this is a totally mechanically "photo reproduction."
Only the finest proprietary European archival and UV resistant inks are used to infuse your image onto the Plexiglas® and provide an archival rating over 100 years. This combination of materials paired with our processes and your image will prove stunning.
Presenting your work on Plexiglas® offers the viewer visual fluidity. It will give your work luminosity and a bright, crisp clarity. Black & white or color photography, highly textured acrylic paintings, bright watercolors and organic art in cool, primary tones tend to translate best onto this substrate.
Museum Quality Archival Plexiglas® (see price chart)
4 mm thickness (approx. 3/16")
100% UV safe
Printed with proprietary European inks
Protective coating guards against scratches and boosts opacity
Perfect for light filled spaces
White wooden hanging mechanism floats art 1 ¼" from the wall
Extremely light in weight; perfect for mobile exhibitions